Rent a Toyota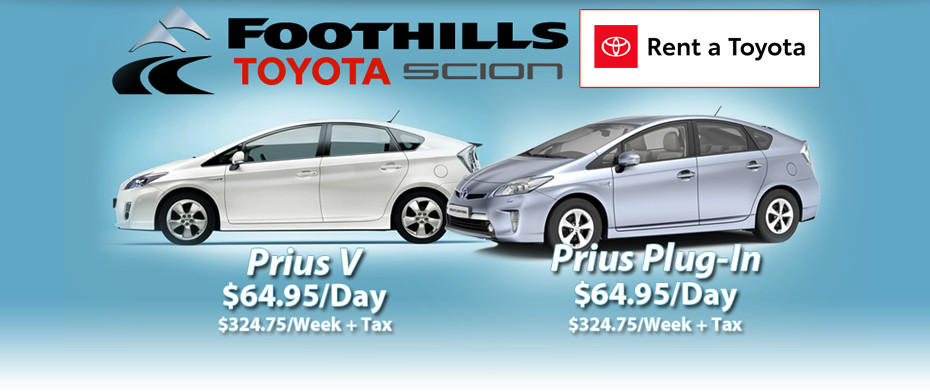 Toyota Rental Car
Daily, Weekly, Monthly rates available
The ultimate "Try Before You Buy" experience.
TRAC Manager Email Me
Models Available:
• Rav4
• Corolla
• Camry
• Yaris
• Scion xD
• Scion xB
Rental Requirements:
• Driver(s) must have a valid US Drivers license and be twenty-one (21) years of age or older.
• Driver of the vehicle must be named on the rental agreement. If more than one person will be driving the rental vehicle, his or her name must also be included (in writing) on the rental agreement.
• Driver(s) must supply current and valid proof of full auto insurance coverage.
• Driver must present a valid credit or debit card (please note that a minimum of available $250 worth of credit must be available on your card at time of rental). We accept VISA, Mastercard and debit card.
• The rental vehicle will be returned during regular business hours with a full tank of gas, or an inflated fuel surcharge fee will be included in your rental (price determined by current fuel charges).
• Reservations not cancelled within 24 hours of scheduled pick up time are subject to a minimum charge of a one day rental fee.
Restrictions:
• No pets are allowed in the vehicle.
• No smoking is allowed in the vehicle.
• Off road driving/use is prohibited. Vehicle must be driven on paved roads only.
• A minimum cleaning fee of $75 will be added for noncompliance of rental restrictions as listed here.
• Travel in your rental vehicle is restricted to the following areas: Washington, Oregon, Idaho and British Columbia. If you want to travel outside of these listed areas, please inform our TRAC Department.
Frequently asked questions:
What is TRAC?
Toyota Rent A Car (TRAC) is Toyota vehicle rental exclusively through Toyota Dealers. TRAC has the quality Toyota vehicles that you want to rent. TRAC has operated worldwide for 40 years in 30 different countries and is the primary rental car company in Japan.
Are TRAC rates competitive with other rental agencies?
Yes! Foothills TRAC program provides competitive rates on similar vehicles across the board. The rental car office is located in our dealership and our vehicle inventory is right there with us, which means you will get the best rates possible on any Toyota you rent from us.
Can I return my rental vehicle to another location?
Unfortunately, no. We own our rental vehicles and do not trade or swap with other Toyota dealers. All rental vehicles from Foothills must be returned back to our dealership, but don't forget we are able to pick you up and drop you off before and after rental to make it as easy and convenient for you as possible.
Can I rent from all Toyota dealerships?
Not all Toyota dealerships participate in TRAC. To find out more go online to www.Toyota.com/rental You will find participating dealerships listed there with a link to their website.
Can I buy the vehicle I rent?
Yes! All TRAC vehicles are available for purchase after just a few months as a rental vehicle. If you are interested in purchasing a TRAC vehicle, contact our TRAC Manager for details.
Can I take the vehicle I am renting to Canada?
Yes. Check with our rental specialist for mileage rates and requirements.
Do I use my insurance to rent a TRAC vehicle?
Yes. All drivers are required to carry their own full coverage auto insurance (including collision and comprehensive insurance). Foothills Auto Center does not provide or offer vehicle insurance.
Is there roadside assistance for my rental car?
Every TRAC vehicle rented through Foothills is set up with 24-hour roadside assistance covering mechanical breakdown, fuel delivery, tire changes, jump starts, lockout services and towing. Your safety and convenience is our priority so you can feel secure driving any of our TRAC vehicles. There is an "800" number located at the top right hand corner of your rental agreement for assistance twenty four hours a day, seven days per week. Be sure to have the last six characters of your rental vehicle VIN number and your Rental Agreement number ready when you call (Rental Agreement number is the "RA NO. on the top right hand corner of the agreement).
Can I tow with my TRAC vehicle?
No. Currently we are not renting any vehicles allowing towing. Please check online for TRAC dealerships that may offer that option at www.Toyota.com/rental.
Do you have any large capacity passenger vans?
No. At this time we don't have any vans available for rent. Please continue to check with us in the future.
Can I drop off my rental vehicle after hours?
Unfortunately, no. Because each vehicle is inspected by our Rental Agents or Manager, we must have the vehicle returned during regular business hours.
Do you have any discounts?
We offer a 10% discount for members of AAA, AARP and any U.S. Military personnel.
If I rent the vehicle in my name can my son or daughter drive it, even though they are not yet 21 years of age, but are on our insurance?
No. Drivers under twenty-one years of age are not allowed to drive the TRAC vehicles.
Can I rent a hybrid?
Yes. We offer several hybrid vehicles for you to choose from. Call our rental agent for hybrid models and availability.
Foothills Auto Center TRAC
1881 Bouslog Road Burlington, WA 98233
Telephone: 360-757-7575
Toll Free: 800-228-1207
Email: [email protected]
TRAC Rental Hours
---
| | |
| --- | --- |
| Monday-Friday: | 8:30am-5:00pm |
| Saturday: | By appointment |
| Sunday: | By appointment |